"Festive Lotus"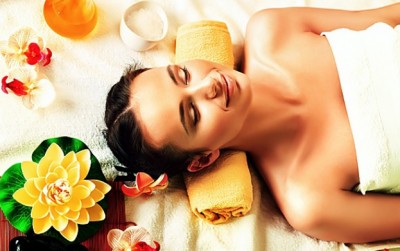 "Festive Lotus"
Choosing a gift is an art. . Gift certificate in Thai Lotus SPA - is Love and Tenderness in one gift.
This unique package based on a formula of eternal youth and beauty, will be a truly pleasant surprise!
The package includes:
Infrared sauna, 15 min
Coffee body peeling with massage "Coffee de Luxe" or massage with hot lava stones "Lotus Relax" (by choice), 60 min
Thai massage with Aromatic Oils, 90 min
INFRARED SAUNA
Infrared sauna has strong positive effect on health. It makes immune system stronger, cleans out toxins, improves skin, relieves stress. Infrared sauna gives mild but deep heating of the body with the medium temperature of 60-65C inside the sauna cabin. This makes sweating process intense and effective. Infrared sauna is a certain way to feeling great!
"COFFEE DE LUXE"
What is the use of the coffee scrub? About miraculous scrubbing isoften spoken of as a fragrant tale to the skin or a heavenly pleasure. It is very useful indeed, because it causes the skin to breathe anew. Particles of coffee helps rid the skin from sweat, dust and dirt, fill it with oxygen. Constant peeling removes the upper horny layer of skin and gives it a noble texture. In addition, coffee peeling - is a pleasant and great fun.
HOT LAVA STONE MASSAGE
Exclusive technics of massage using basalt kind stones formed on slopes of an active volcano, that remarkably absorbs heat and slowly releases it. The massage stimulates the power centers of the body, positively influences all organism - harmonizes psychologic background, gets rid of muscular pains, removes a stress, normalizes sleep, improves lymphatic drainage, blood circulation and fabric exchange, restores the tone, elasticity and water balance of the skin.
THAI OIL MASSAGE
This massage is a charming combination of muscle, reflexology massage, light manual therapy and unbeliveable softness of thai masseur`s hands. This is a massage with aromatic oil, which influences your body and it`s light aroma improves your mood. A skilful choice of oils and slow, stroking movements relieve problems such as tense muscles, cellulite, stress, sleeping disorders, blood pressure fluctuations or just bad moods.