"Romantic" package for TWO!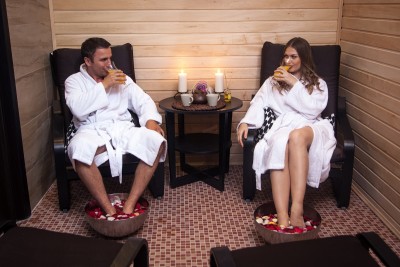 Romantic program for TWO in the most romantic zone of our salon!
Program is designed by our salon specialists. It is a luxurious pampering package, which begins with aromatic foot bath with rose leafs and rose oil... Then your feet are cleansed with a peeling cream with natural rose extracts. Your body and feet are massaged with exclusive natural aromatic oil mixture "Thai Rose", which was produced in Thailand by our special order and one of the main ingredients is natural rose extract.
Warm foot bath with rose leafs and rose oil, 15 min
Feet peeling, 30 min
Thai foot massage with exclusive oil mix "Thai Rose", 30 min
Thai body massage with exclusive oil mix "Thai Rose", 1 h