Campaign "HEALTHY LOTUS" (-40%)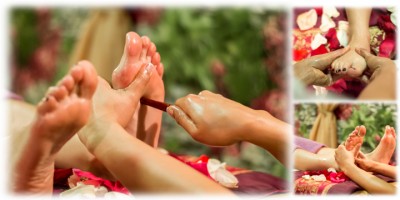 CAMPAIGN «HEALTHY LOTUS» (-40%)
Do not miss the chance to pamper yourself and your loved ones with wonderful relaxing summer treatments:
Foot bath and foot scrub, 45 min
Thai reflexology foot massage, 30 min
Thai traditional or thai oil massage (by choice), 60 min
Facial treatment, 60 min
FOOT BATH AND FOOT SCRUB
Foot scrub makes the coarsened skin of the feet healthy and beautiful, gently exfoliating dead cells. It eliminates cracks and corns.
THAI REFLEXOLOGY FOOT MASSAGE
A good Thai reflexology foot massage is an incredible strength, which can relieve headaches, insomnia, and chronic diseases. It also improves blood circulation throughout the body, thereby helping to get rid of high blood pressure and heart disease. It is also a very pleasant procedure, among other things. The master uses special bamboo sticks, working out the points of feet. It relieves stress and improves mood. 
TRADITIONAL THAI MASSAGE
Thai massage technique consists of pulling moves similar to yoga (there from came the name Thai Yoga massage), acupressure and work with body`s energy lines. This helps to eliminate the excess fluids, toxins, normalize blood and lymph circulation. Thai massage has enormously wide range of use. It is used to relieve muscle and joints pain, head ache, to increase the flexibility of joints, tone muscles, eliminate problems with digestion, stress, insomnia, to strengthen nervous system, to cleanse the organism, stimulate the work of all internal organs and many more.
THAI OIL MASSAGE
This massage is a charming combination of muscle, reflexology massage, light manual therapy and unbeliveable softness of thai masseur`s hands. This is a massage with natual oil, which influences your body and it`s light aroma improves your mood. A skilful choice of oils and slow, stroking movements relieve problems such as tense muscles, cellulite, stress, sleeping disorders, blood pressure fluctuations or just bad moods.
REFRESHING PEELING FACE TREATMENT
Peeling treatment gives skin freshness and  good tone, improves structure, smoothes defects from acne. This treatment advantage is that it is compatible with every season of the year and every age, it gives skin freshness and glow right after the procedure.